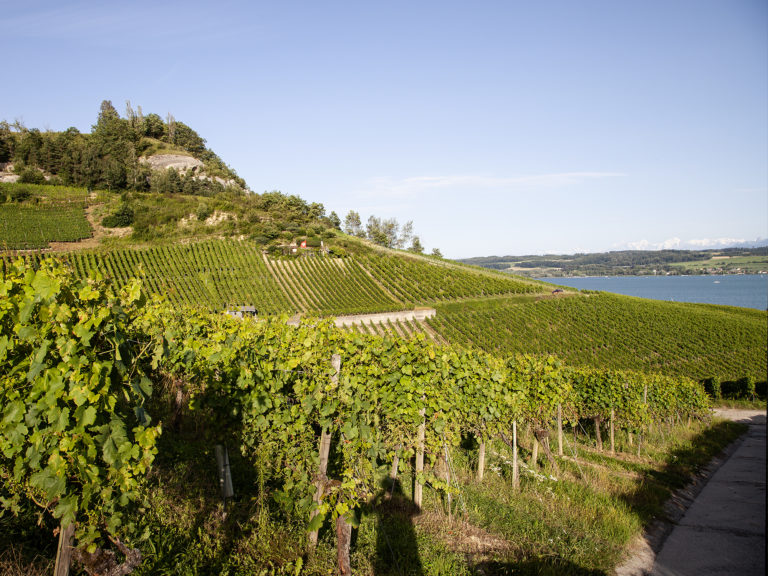 Welcome to our Digital Sustainability Report 2022
Corporate ecology and climate protection
Since 2010, BCF has been improving its environmental performance year after year. Since 2008, it has been assessing its carbon emissions, its e-banking has been climate neutral according to the ISO 14044 standard since 2011 and, since 2013, BCF has been climate neutral for all its activities, thanks to residual emissions offset by the purchase of Carbon Fri certificates.
The bank also continues to upgrade its buildings for better energy performance. In 2022, it is renovating part of its headquarters' offices. It uses only green hydroelectric power and will connect to a distance heating network in 2023. It has drastically reduced the amount of paper it uses and significantly reduced its waste.
It systematically promotes energy and natural resource savings in all areas. In 2022, it also took the necessary steps to participate in the collective efforts to avoid an energy blackout in Switzerland. During 2022, in addition to these one-off measures, it planned to change many of its lighting fixtures, launch the renovation of the ventilation system at its headquarters and plan the renovation of five of its branches. Energy efficiency is taken into account in each of these renovations. In 2022, the company prepared an energy report for its branch in Kerzers before undertaking the necessary renovation work.
Environmental aspects are also taken into account in purchasing: both the suppliers and the products and services, if possible from within the bank's area of activity, must not only meet price and quality requirements, but also respect ecological and social standards.
BCF has significantly reduced its impact on the environment in recent years and will continue to do so in accordance with the objectives set out in its Sustainable Development Charter.
Consequences of climate change
Climate change affects nature, society and the economy in various ways. Its effects are assessed in the context of risk management. The analysis of financial risks, to which the credit portfolio in particular is subject, takes into account environmental influencing factors. For BCF, climate change risks include, among other things, negative effects on tourist regions (winter tourism), weather damage or additional legal requirements in connection with the energy efficiency of buildings that could influence the valuation of the credit portfolio. These risks are minimized, among other things, by periodic sector analyses and sector limits.
Resource consumption and emissions
BCF has long been committed to using resources efficiently and significantly reducing its environmental footprint. BCF has been publishing figures on its environmental commitment in its Annual Report for several years and will continue to develop its indicators in this report in the years to come.
CO2 emissions
Since 2008, BCF has been tracking its carbon emissions. Its emissions have decreased by 24% since 2013 and since 2013 it is also climate neutral. The residual emissions are in fact compensated by the purchase of Fribourg Carbon Fri certificates.
Green electricity
The electricity supply is 100% covered by Hydro Fribourg green electricity. BCF favors LED or low-energy bulbs for the exterior and interior lighting of its buildings. When modernizing its buildings, it implements automatic lighting management. In 2022, it has launched a call for tenders for the renovation of the lighting in its headquarters.
e-banking andIT
BCF customers are encouraged to participate in climate protection by using e-banking.
The annual Carbon Fri certificate for the bank's online services was issued to BCF in April 2023. This certificate attests that the CO2 balance has been established by an accredited organisation guaranteeing compliance with the ISO 14064-1 standard. It also guarantees the presence of a climate policy and a declaration of intent to reduce CO2 emissions as well as the existence of a certificate of investment in the Carbon Fri Foundation.
In April 2022, BCF supported the Digital Responsibility Conference Day and presented the topic of "Sustainable Finance in relation to Digital" as part of this day.
100% of BCF's IT services are outsourced to Swisscom, which in 2020 was voted the world's most sustainable company in the field of telecommunications companies by World Finance magazine. (See Swisscom's One pager in the appendixes of the Sustainability Report).
Office automation
Over 80% of the paper used by BCF is recycled paper. All paper is FSC certified. BCF also gives its customers the possibility to do without paper mailings with its e-documents. In 2019, BCF replaced its counter receipts with an electronic signature, which corresponds to a saving of 2 million sheets per year. Since 2019, the bank has reduced its paper consumption by 40%.
Water
Since 2013, BCF has reduced its water consumption by 26%.
Buildings
The modernization of the BCF buildings considers the best practices to optimize the energy balance, among others, the improvement of the building envelope. Wherever possible, photovoltaic panels are installed. In 2022, a project to connect the headquarters to the CAD was started, to be effective in 2023. This is a measure to reduce our CO2 consumption.
Business and commuter traffic
Wherever possible, work trips are made by public transport. Work-related traffic has decreased by 37% between 2013 and 2022.
BCF provides financial support to its employees when they purchase an annual public transport pass (job abo). BCF has also installed charging stations for the electric vehicles of its employees.
In 2022, BCF established a mobility plan recognized by the Fribourg agglomeration. The plan offers employees financial advantages on annual Frimobil transport pass. Measures to promote soft mobility will be implemented, such as the acquisition of electric cars and cooperation with Mobility.
– The BCF achieves its goals by, for example, improving the energy efficiency of its buildings, reducing resource consumption, using environmentally friendly resources (including electricity derived exclusively from renewable energy sources), and minimizing business-related waste;
– The BCF reduces overall greenhouse gas emissions from its operations by 10% from 2019 levels by 2026;
– The BCF increases energy efficiency by 30% from 2008 levels by 2026;
– The BCF compensates emissions in line with ISO 14044 certified by the Carbon Fri